The MT Ownership Debate: Whose company is it anyway?
The complete text of the MT's recent round-table debate about company ownership...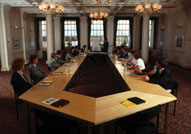 Attendees:
Tim Wates, Chairman, Wates Family Holdings
Blake Lee Harwood, Consultant
Matthew Gwyther, Management Today
Will Hutton, Executive Vice Chair, The Work Foundation
Adrian Beecroft, Senior Managing Partner, Apex Partners
Sir John Egan, Chairman, Severn Trent Water Company
Mark Goyder, Founder Director, Tomorrow's Company
Rajesh Sennik, Private Equity and Corporate Strategy, Accenture
Colin Melvin, CEO, Hermes Equity Ownership Services
Richard Ufland, Corporate Partner, Lovells
Mark Goyder
Tomorrow's Company's report on 'Tomorrow's Owners – Stewardship of Tomorrow's Company' poses many questions which we'd like to tackle today. Do you agree that the success of a company depends upon stewardship? Do you agree at its description of the four roles of the shareholder – financier, member, scrutineer and steward? Do you agree that stewardship is ultimately a joint function that has to be exercised between the board and shareholders of a company? Do you agree that that rise of the 'the casino economy,' before the crash has changed the picture? Is the listed company model broken? Do we have something to learn from Europe, where block shareholdings, which give a clearer lead from a particular shareholder, are more common? Does national interest with regard to the holding of assets come into this debate?

Sir John Egan
The listing rules that we now have for the Stock Exchange were a great step forward. Stewardship has a governance framework in the UK, which is better than anywhere else in the world. This contrasts with the USA, where company boards are often made up of a number of the CEO's cronies, all of whom agree with him or her. This enhances the dictatorial powers of the CEO, which may lead to change, but does not necessarily develop stewardship.
Company behaviour has improved enormously since the listing rules were introduced. The non executives are now in charge of pay and, if you are paying too much, the non-executive director in charge of remuneration has to defend the charges in front of shareholders. There is now an audit committee, which should remain impartial because the non executives have the power to change the auditor and to ensure the accounts are accurate.