The MT Prize Quiz 2009 - The Answers
If you entered our quiz of the year - a question for every turbulent month - here are the correct answers.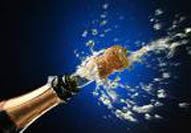 Thanks to everyone who entered our quiz of the year for 2009. The standard of this year's entries was higher than ever, and nothing less than a perfect score was enough to secure the MT bubbly. The three lucky winners have been notified by email (and will have some champers winging their way soon). But for everyone else, here are the answers we were looking for (with links to the stories concerned)...
The answers:

1. Which budget-friendly retailer is Britain's highest-paying graduate recruiter, according to a report in January?
ALDI

2. Which unlikely 'action group' staged a boycott of Kellogg's products in February?
POT SMOKERS

3. What were there 30% fewer of this year than last, according to Forbes?
BILLIONAIRES

4. Which chain enjoyed notable growth with a little help from Cheryl Cole's bikini?
99p STORES

5. What do MT editor Matthew Gwyther and Kanye West have in common? (NB. we really hope there's only one answer to this question)
THEY THINK TWITTER'S TWADDLE

6. Which event slowed the entire internet to a crawl in June?
MICHAEL JACKSON'S DEATH

7. Who found himself in hot water after borrowing a hefty £1.5m from the boss of his biggest rival?
SIR DAVID JONES OF JJB

8. What did HMV boss Simon Fox not do in August, much to his shareholders' delight?
JOIN ITV

9. Which traditional company dropped all references to their country of origin in September, to appease reactionary Americans?
HARRIS TWEED

10. Which high street chain announced plans to double its rate of new store openings in the next few years, after piping hot sales?
GREGGS

11. Who was dubbed the billion-dollar man in November?
MARC BOLLAND (AFTER THE ANNOUNCEMENT OF HIS MOVE FROM MORRISONS TO M&S CAUSED A £600M SWING IN VALUE BETWEEN THE TWO FIRMS)

12. Who delivered £170m in savings this year (controversially) as 5,000 people got their cards?
ROYAL MAIL