MT Reviews: BerryWhite Organic Drinks
Do you guzzle tea and coffee all day long? Are you addicted to sweet, caffeinated drinks? Well, so is MT. We tried to kick the habit by giving BerryWhite Organic Drinks a go. Here's how we found them.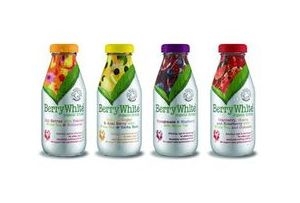 When you're run off your feet at the office, there's barely time to throw some instant coffee granules into a plastic cup of hot water, let alone head to shops for a freshly-squeezed orange juice. So, when we heard that there was a new range of healthy soft drinks out there, we decided to give them a whirl. Goodbye, tins of Coca Cola and murky cups of questionable tea. Hello fruity goodness.
Well, it's worth saying now that BerryWhite - great name, that. MT can hear the great man's dulcet tones with every sip - isn't as good for you as you may think. It may not contain artificial sweeteners or any added sugar, but there's still a tooth-crumbling amount of the sweet stuff in there - enough to make 115 calories per bottle. We couldn't find the exact amount in the ingredients list or online, but MT's teeth squeaked after downing a bottle of the Pomegranate & Blueberry flavour.
That said, these are pretty tasty. The Lemon, Ginger & Acai Berry is our favourite - the lemon and ginger give it a bit of a kick, but it's sweet enough to taste a bit naughty. Plus, Acai Berries are superfoods, packed with nutrients, or so the spiel goes - and we're a sucker for all that stuff. Goji Berries (another superfood!) & Peaches was also darn tasty. Like a summer iced tea meets a lollipop.