MT Reviews: The Gear4 HouseParty Rise Wireless
Whether you're after a banging bluetooth speaker for the office or your home, this sexy piece of kit hits the right note.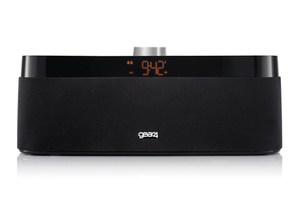 Oh, the way one's heart thuds cracking open the packaging of a new piece of technology. For MT, it's usually half excitement, half terror: will the gizmo work? Will it be impossible to set up? Are there any bits missing?
Imagine our delight when the Gear4 HouseParty Rise Wireless slides out of the box. It's sleek, black and sexy and, most importantly, has mercifully few buttons and cables. In fact, if you pop in the lithium battery (included) it has no cables at all. Perfect for alfresco adventures. The only 'little extra' to clatter out of the box is a hugely useful one: a European adaptor. That's right, you are positively encouraged to take this baby on holiday and set your party villa a-rockin'.
Now, this is a newfangled Bluetooth wotsit, and MT was slightly worried about the mechanics of getting the thing to work. But setting up the Wireless to pair with your music-making device is child's play. MT's iPhone found the HouseParty Rise Wireless in a jiffy, and moments later, the dulcet tones of Alexandra Stan were blasting out of the speakers with 'Mr Saxobeat'. (The European plug did rather inspire us as to the genre). And if your device doesn't feature bluetooth technology, fear not, you can connect it using an old-fashioned 3.5mm jack.

The sound quality from this gadget is impressive. Even drum'n'bass anthem Taxman's 'Cool It Judy' sounded clear as a bell and packed a serious punch all the way up to volume 32 (when many inferior sound systems start to crackle). It boasts the audio clout of a speaker thrice it's size - at a push, you could sling the HouseParty Rise Wireless into a large ladies handbag. It's also surprisingly light light but reassuringly solid; it's not going to crumple at the first sign of a drunken elbow heading in its general direction. MT's only complaint is that when shuffling speedily through tracks, the speaker makes the occasional chirrup/squeak/bleep as it tries to keep up.