MT Reviews: Nephria Jade Activating Cream
Made with pure 'mineral water' from a South Korean jade mine, will Nephria Activating cream leave your friends and colleagues green with envy? MT's Charlotte Burn-Callander investigates.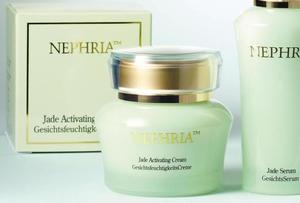 Now I'm slightly dubious of any moisturiser which takes its therapeutic cue from an ornamental stone, and the first word that comes to mind is 'gimmick'. 'What on earth does a pot of jade have that good, old-fashioned Nivea doesn't?' I thought. That being said, given the UK facial skincare market is worth around £1bn a year, is it any wonder that cosmetics companies have to keep on coming up with new and ingenious ways of getting us wrinkly, crater-pored creatures to buy into 'the secret of youthful skin'.
Benjamin Buttons we ain't – in fact, we're all ageing at the rate of knots, and it's because this anti-ageing malarkey is getting far too bloody stressful.
Still, hit me with some pure Nephria Mineral Water from the reservoir 400m under a Jade Mine in South Korea that promises to strengthen the spongy cells in between my collagen and elastin fibres and I'm thinking, hmmmm, tell me more. Precious essence of Madagascan snail shell, black Arctic orchid extract, multi-patented Life Re-Newing Molecules™– be gone! It's all about the Jade.