MT Reviews: Pure Lochside Organic Orange Cleansing Oil
This wonder-oil promises to cleanse, exfoliate and moisturise the skin at once; a three-in-one time-saving miracle! Our reviewer puts it through its paces.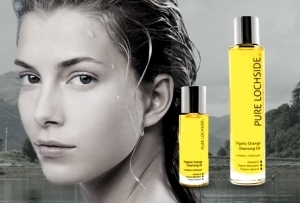 Cleanse, tone, moisturise, hair, make-up... We'd all love to have more time for our beauty regimes. But sadly we're not all WAGs and have a day's work to get on with.

However, turning up to work looking like you've been dragged through a hedge backwards doesn't scream 'superstar business professional'. Plus, looking your best at work not only presents you well to colleagues and clients, it also gives you that personal added boost – looking good is feeling good after all.

Enter the eternal struggle for maintaining a manageable beauty regime with the everyday time constraints of a busy, working life. As the corner-cutting expert I have already perfected many methods for achieving the optimum balance of looking acceptable whilst having necessary sleep and making it to the office on time. Doing my make-up on the train, for instance. Okay, it has mixed results but it sort of does the trick. I also like to go for the 'up' hair-do, also known as not drying it and tying it into a hasty ponytail, hoping it will lose the 'wet-effect' by the time I've made it into the office.

And now, enter the potential miracle time-saver: the Pure Lochside Organic Orange Cleansing Oil, with its own muslin cloth. The cleanser plus muslin cloth combination is a new introduction to my world of beauty products. Having tried virtually every time of cleansing product to radiate my skin, smooth, remove impurities, exfoliate and Lord knows what else, this new concept ticks all the boxes. The cleansing oil gives your skin a nourishing clean whilst not drying it, removing impurities and even eye make up. The muslin cloth polishes your skin, takes off dead cells and acts like a gentle daily exfoliation treatment.
Gone are the days of removing eye make up separately or including the additional exfoliation routine; the gentle nature of the oil also means your skin is left feeling soft and unlikely to require additional moisturiser – critical minutes shaved off all round!

The reality is more or less what I was hoping for. My fear of the oil being greasy was unfounded though I did still need to apply a little moisturiser afterwards. Eye make up was easily removed but not entirely, the evening routine appeared to do the trick only to wake up the next morning with that familiar panda eye look. Still, this is no different to regular eye-make up remover and still saves some time.

The product is nicely packaged, has a deep, classy, aromatic fragrance and the muslin cloth good quality – but I will have to frequently wash it. As with any skin care product, what suits one person might not another. I didn't find my skin 'glowed' exactly, but it's a great product and I'm sure this stuff would work very well for the right skin types.

So all in all it's certainly worth a try. But I still haven't found my miracle five-minute beauty routine; you'll still find me slapping on the eye liner whilst my train waits at Wimbledon…
Organic Orange Oil costs £18.50 for 30ml. You can buy it direct from Pure Lochside here.