MT Reviews: The Royal Institute of British Architects (RIBA)
Nestled in the heart of central London, RIBA is a hidden gem for corporate shindigs, grand balls and intimate dinners alike.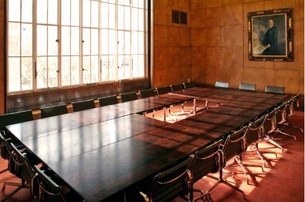 Chances are that most Londoners have either walked past RIBA, or at least passed close by at least a dozen times. Located a stone's throw from Great Portland Street and Regent's Park stations, and just ten minutes from Oxford Circus, its central London location makes it a prime venue for meetings, catch-ups, conferences and evening dos.
The home of the Royal Institute of British Architects - most of the regular visitors to the RIBA venue are its members - the Art Deco building boasts the largest library of architecture books in Europe. But you don't have to be a budding Wren or Loos to visit. RIBA is a public building and features a cafe by the entrance and a restaurant on the first floor for passers-by to grab a coffee or have a chat. Lunch times only, for now at least. The building also has free guest wi-fi for frantic emailers looking for a spot to hit 'send'.
And for those looking for a more formal setting for a meeting or corporate get-together, there's a whole smorgasbord of rooms to choose from - 23 all together. RIBA is a six-storey mega-mansion of a building, with three terraces, two huge entertaining rooms, a conference hall in the penthouse (with a sneaky smoking balcony and fabulous view of London), and a host of quirky and modern rooms for dinners or meetings. Uniquely, every room in RIBA has the benefit of natural light, so whichever space you decide on, you won't risk giving guests the dreaded 'halogen light fatigue'.