MT Reviews: Scheckters Organic Energy Drink
Alex Epstein, branding entrepreneur and ex-Apprentice candidate, puts Scheckters Organic Energy drink through its paces. Can this 'healthy' take on caffeinated rocket fuel help him go the distance?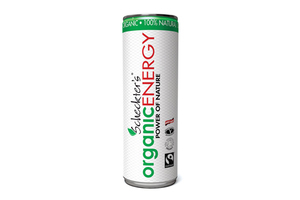 I tried this organic energy boost one evening when I was finishing a presentation. It was a trial of fire because I absolutely had to finish it that night, even if it meant working through till morning! As someone who often binges on energy drinks to cope with crazy work hours, the prospect of something more natural sounded appealing.
With energy drinks, you know they are not great for you - but the need to 'perk up' is a more immediate, pressing problem.
The Scheckters version claims to be organic, sweetened with Agave nectar, low GI, and no synthetic nasties such as sweeteners or other preservatives. Even the caffeine in this is from natural sources. And I didn't get that chemical aftertaste you experience with most energy drinks - that always makes me worry that I causing harm to my health!
It was not too sweet, and went down very well! I felt better about drinking it, as I knew it didn't contain all the usual chemical gunk. However it does still contain a lot of sugar. I also like the way it contains 'real' caffeine extract from green coffee beans.