MT Reviews: USN SPIKE Hardcore Energy Juice
Self-confessed caffeine junkie Alex Epstein loves an energy drink-fuelled all nighter. Will this 'hardcore' product see the entrepreneur and one-time Apprentice star through to the wee hours?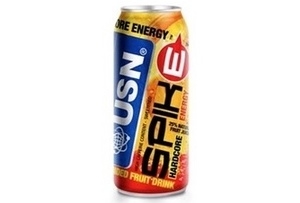 In all honesty, I was a little bit frightened to drink this one. The promise of 'hardcore energy' made me feel like I was about to do something naughty. Add to that the size of the thing: the giant 500ml can looks like something a pumped body-builder should be swigging! The macho warnings in large type did little to reassure me, either: 'Not recommended for children under 12 or pregnant women,' reads the product. I thought this kind of warning was reserved for mad rollercoasters!
But if you look at the ingredients, it's not all that scary after all. USN SPIKE contains 25% fruit juice, so there must be some goodness in there. The actual drink was pleasant enough - fruity in a tropical, Um-Bongo way - that'll be the apple, pineapple and passion fruit, no doubt. I found that it was a bit too sweet to get through the whole can - but then again it is 500ml.
However, when it comes to energy, the USN SPIKE lives up to its promises. During one of my mammoth evening work-a-thons, it gave me a good caffeine kick. Even hardcore coffee addicts would feel the buzz from this one. But I have to say that I would struggle to drink this regularly - I don't have enough of a sweet tooth. Also in an office environment, I fear the design of the tin would make me look like I was training for sumo wresting or something. It's all a bit too hardcore for me, alas! But if I ever become a sky-diving, extreme surfing adrenaline junkie, I know which energy drink to go for...