MT Round-table: How to do more with less
Now that the age of austerity is upon us, how can UK plc keep growing through these hard times?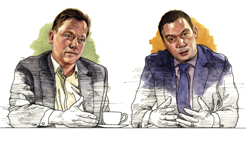 MT gathered a group of corporate leaders around a table in London's Soho Hotel, ordered them drinks (tap water, of course) and asked for their advice.
Ian Wylie, MT The aim of this discussion is to tease out whether it really is possible in this economic climate to do more with less. We could couch the conversation in negative terms but, as we all know, it's in difficult economic times that we often see examples of innovation and fresh thinking. So how does the notion of doing more with less chime with your experience in your business?
Steve Walters, Ricoh UK Our clients know us as a provider of hardware services, but we're flipping the problem on its head and see it as a good opportunity to get under the skin of customers and tease out of them the problems they are experiencing in the marketplace. It's an opportunity for us to show them how other companies have managed to improve efficiencies, drive down costs and gain control of areas they're not experts on.