MT talks to The Catering Academy's Louise Wymer
Catering entrepreneur Louise Wymer is the third of this year's Veuve Clicquot Business Woman finalists.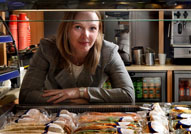 This week, MT is speaking to the four candidates short-listed for the highly prized Veuve Clicquot Business Woman of the Year title. Today it's the turn of Louise Wymer, founder and director of independent catering firm The Catering Academy, who tells us about the importance of staying close to your clients and keeping a beady eye on the finances, and explains how a fifty-something waitress imparted one of her most important business lessons…

MT: What's been your experience of the recession?
We've benefited from having a diverse client base - so although we've seen a decline in the manufacturing sector (including one client that went into receivership), we've seen an upturn in our schools and college sector. People going into education tend to have more disposable cash, so we've been able to maintain rates and grow the business. Because we're smaller and in touch with our clients on a regular basis, we can react much more quickly and proactively. So if clients are feeling the squeeze, we can change what we're offering, perhaps give them a better-value product at lunchtimes.

MT: What has the recession taught you about running a business?
You've got to have someone responsible for looking after the finance area – that's absolutely critical in making sure you're on top of your debts and managing cashflow, so you don't get carried away. It's also reminded us about staying focused: if things are going ok and you're making money, despite all these horrible stories around you, you can't get complacent – you've got to keep doing what you do best and providing that service. But you also need to be bold enough to invest when the time is right: when you make money, re-invest it in your business, so you continue to develop and grow.

MT: How have you tried to invest in CSR and better working practices?
I'd love to use nothing but biodegradable packaging – but some of our client sites don't have the waste management systems to deal with it. So instead you have to think about recycling, or minimising the packaging you use. Then there are things it's easier to change across the business – like switching to pole-and-line-caught tuna. We also use regional suppliers for our fresh produce; it makes sense to buy stuff like bin-bags and cling-film on a national basis, but buying things like lettuces and tomatoes regionally means you get fresher, better produce. Plus you're helping the regional economy too. It's important to be seen to be doing the right thing and supporting the local community.

MT: Which leaders do you admire or look up to?
Two people stand out. Early in my career I worked for a company called Charlton House Catering, which had just been set up by a lady called Robyn Jones. I loved working for her; her background was very similar to my own, and she was an absolute inspiration in terms of where I saw my career going. I also worked very early on with a head waitress. One day she took me to one side and said: 'Louise, I can see you want to go places, and that's great. But whatever you do in life, don't forget the little people.' She wrote me a card when I left that I still carry around now, just to remind myself: it doesn't matter how good you are, if you want to be successful you have to take your team with you.

MT: The award is sometimes called the Oscar for female business leaders. To what extent do you think competitions like this (and MT's own 35 under 35, which looks to highlight the next generation of young female business leaders) are still necessary these days?
I think they are important; not just because they recognise women in business, but also because they act as a reality check. So often women want everything in life – they want to be successful, and they want to be recognised as such, but they also want the family life too. But nobody can have it all; I couldn't do what I do without my husband being there for the family. So it's a reminder that you can be hugely successful in a man's world, you can have an entrepreneurial life – but to do it, you need that support structure behind you.


Louise Wymer is one of four finalists for the 2010 Veuve Clicquot Business Woman of the Year award (judged by, amongst others, our very own editor Matthew Gwyther). We'll be speaking to the remaining finalist tomorrow, ahead of next week's result.

Incidentally, we're about to start compiling our very own '35 Women Under 35' list for 2010. So please send your nominations to emma.devita@haymarket.com by Monday 19th April (including a full biog, an outline of job responsibilities and details of any outstanding achievements both inside and outside of work). Nominees must be aged 35 or under on the 1 July 2010 and be living and working in the UK. Feel free to nominate yourself.

In today's bulletin:
Darling gets war-chest as borrowing not as awful as expected?
Nissan to turn over a new Leaf in Sunderland
Uproar as Prudential boss takes non-exec role at SocGen
Greenpeace goes for broke with killer Kit Kat campaign
MT talks to The Catering Academy's Louise Wymer