MT's 35 Women Under 35 2007: Bright young things
Glass ceilings? The confident alpha females on MT's latest list have stormed male bastions or skirted round them. But mixing career and children is still a tough call.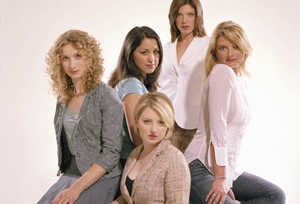 Here, for starters, are interesting facts about five of the 35 young women on our 2007 list. One was promoted to be the youngest partner of the world's largest law firm while on maternity leave. At the age of 23, another was made the youngest-ever board director of a plc. One was a single-mum taxi-driver, chucked off TV's Dragons' Den, whose business is now worth £5 million. A fourth, while at university, was poached by boxer Chris Eubank to promote his fights, before working with Sir James Dyson and Sir Bob Geldof. And the other is one of the youngest female private-equity professionals in Europe.
Impressed? Meet all the 35 women who MT thinks have the potential to rise to the very top of their game. Aside from their precocious careers, what our bright young things have in common is a talent, a focus and a drive that leave others disappearing in their glittering dust cloud.
The ambitious start at an early age; indeed, the two youngest women on our list are just 24 and have already achieved great things. 'I am very competitive, I don't like losing at anything, therefore it makes me very driven at all times,' says MT cover star Rebecca Farrar-Hockley, who is creative director at Kurt Geiger. 'It's absolute focus at all times and I love that.' She is an alpha female who flourishes when working with other 'eccentric alpha males'; as does co-cover star May Jennings, director of brand licensing start-up and AIM-listed The Core Business. 'I wanted to go further. I had the ability, so my boss gave me the directorship,' she says. It made little difference that she was just 23.