MT's 35 Women under 35 2008: The List
For those who want to know what it takes to get onto MT's prestigious 35 under 35 list, here's the answer. Full biographies of all of this year's lucky winners - in no particular order - follow.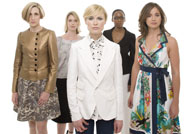 Emma Reynolds, 24
In 2007, Australian-born marketer Reynolds co-founded e3unlimited, working with the likes of Virgin, Yell.com, Corus and American Express on their talent and recruitment. She also runs research business, Ask Gen Y. In 2005, Reynolds was a finalist in the Queensland Young Business Woman of the Year awards.
Melissa Bailey, 33
IBM's youngest-ever senior certified IT architect and on its management team, Bailey is CTO for the industrial and communications sectors for the UK, Ireland and South Africa. She teaches at seven universities and is on the engineering and technical strategic panel of the British Computer Society.
Laura Bates, 28
Having worked at Deutsche Bank and Arthur Andersen, Oxford graduate Bates is now MD of home accessories range Bombay Duck, founded by her sister in 1993. Bates took over in '05, launching it in the US, Japan and Oz and expanding the stock to 2,000-plus items, sold through 1,000 stores.