MT's 35 Women Under 35 2012: Migration Nation
MT's list of young female high achievers in this Olympian year of all-comers is a vivid reflection of wider British enterprise, energised as it is by self-starters whose origins lie beyond our shores.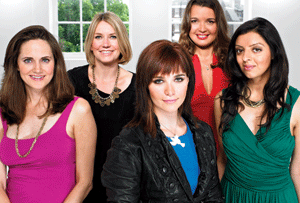 What happens when you put five women born in Britain, Kazakhstan, the US and South Africa in a room together? The answer is 2012's '35 Women Under 35' cover shoot. This year's list is all about migrants and daughters of migrants - 14 of this year's 35 women are foreign or have a foreign parent or parents. Aside from those already mentioned, the nations represented here are: Australia, Brazil, Bulgaria, Finland, Greece, India, New Zealand, Romania and Venezuela. It couldn't be more appropriate for an Olympic year.
But might this be awkward reading for the Coalition government, which has introduced annual limits on the number of workers who can come to the UK? Tory ministers want to reduce net immigration to the 'tens of thousands', but these rules, says the City of London Corporation, which represents the interests of the Square Mile, are 'giving the impression that we aren't open for business'.
And UK business would be much less international in outlook, diverse and energetic without the people who have taken a risk in coming here. We wouldn't have Nadja Lossgott, now art director at AMV.BBDO, who jumped at the chance of coming to London when the ad agency approached her. She admits she's surprised to find herself in this country, saying that moving here from Johannesburg was the hardest thing she has ever had to do. 'You're completely out of your comfort zone, and that is frightening. It's a completely petrifying experience,' she says.