MT's 35 Women under 35 - and Carolyn McCall - hit LK Bennett
At our latest 35u35 networking event, GMG boss McCall spoke of the need for stamina and resilience...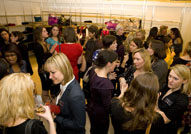 Carolyn McCall will speak at our Inspiring Women conference on November 27, 2013 - click here to find out more.
MT tried to provide its own antidote to the November gloom last night by hosting another fabulous networking bash for our stellar '35 Women Under 35' network. Sponsored by Accenture, the exclusive event was held at the LK Bennett store on Brook Street.