MT's Little Ray of Sunshine: ASOS still in vogue
ASOS seems to be weathering the current storm pretty well: its profits are up nearly 70%...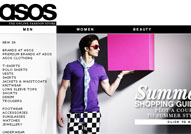 Online fashion retailer ASOS said today that pre-tax profits for the six months to October jumped by an impressive 68% to £4.1m, while sales more than doubled to £67.5m. It now has almost a million active customers, making it a serious force in the UK fashion market. At a time when rival retailers are moaning about the toughest climate they've seen in years, ASOS is living proof that some segments of the market are still growing fast...
ASOS, which specialises in selling affordable versions of celeb outfits (hence As Seen On Screen – although As Seen in the Gossip Rags might be more appropriate) seems to be thriving for three major reasons. It's relatively inexpensive – shoppers can enjoy a treat, but tell themselves that they're actually economising. It's entirely online – so it's not affected by the declining footfall on the high street, while being quick and easy to use. And it gets about half of its custom from under-25s, who are generally the last people to stop spending money in a downturn. This is partly because they're less likely to be paying for mortgages and childcare, and partly because they're more feckless.
However, to ASOS's credit, it's also been expanding its offering cleverly. It's started offering various high street brands in addition to its own, including the likes of Karen Millen and Whistles – giving customers another good reason to avoid the high street. And it's also branched out into discounted designer labels, through its offshoot ASOS Red. Next up will be childrenswear, which launches in February, followed by world domination: it's tasked FD Jon Kamaluddin with plotting an overseas expansion drive.