MT's Little Ray of Sunshine: Blackpool rides out the recession
Blackpool will be the most insulated against the credit crunch, according to new research.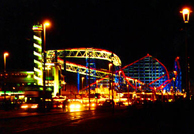 You have to grab the good news where ever you can, and new research by accountants UHY Hacker Young on 50 UK towns and cities and their exposure to the credit crunch, reveals that Blackpool, because of its low number of inhabitants employed in financial services and construction, will be the most immune to the recession.
'The growth in financial services has largely passed Blackpool by. Blackpool has its problems but an overexposure to investment banking is not one of them,' says partner James Simmonds. Only 13.1% of people living in north-west coastal resort, famed for its tower, lights and D-grade entertainers, work in financial services or construction, the sectors most affected by the economic downturn.
But it's good news too for Stoke-on-Trent and Plymouth, both of which snap at Blackpool's heels for least credit-crunched town or city, as a large number of jobs in both places are provided by the public sector. According to the FT today, two out of three jobs created since 1998 have been in parts of the economy dominated by public services. If the figures are to be believed, the private sector hasn't been as dynamic as it would like to portray. In fact, public service jobs are playing a much more crucial role in driving the economy than would seem.