MT's Little Ray of Sunshine: Gourmet Burger sizzling
Clapham House, owner of Gourmet Burger Kitchen, has bounced back with a 21% jump in revenues...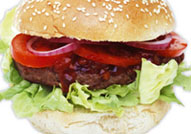 This time last year Clapham House, the restaurant operator that owns the GBK, Tootsies and Real Greek chains, saw its shares dive after downgrading its forecasts. But today it's riding high: despite this being one of the most difficult years for the hospitality industry in living memory, it's managed to record a 114% jump in profits for the six months to September. And it even claims to be 'very positive' about the future prospects for its various formats. Perhaps the UK restaurant business is not quite so moribund after all?
Today's figures from Clapham House show that it's done an excellent job of overhauling its business in the last 12 months, after a shock profit warning sent its shares plummeting 40% in a single day. Revenues were up 21% to £30m, while pre-tax profits more than doubled to £1.5m; this was partly thanks to the opening of nine new restaurants, which the company said had been 'particularly strong and immediately profitable' – quite a feat in the current climate. It's also been able to cut its debt by 10% and agree a financing deal that takes it right through to 2012 – by which time the market should (hopefully) be recovering.
As a mid-market restaurant group, all the prevailing wisdom would suggest that Clapham House would be clobbered by the recent slowdown - hence why last year's profit warning was seen as the first warning sign of the sector's decline, and sparked a mass sell-off of similar stocks (chairman David Page has since suggested that it brought a 'dose of reality to the sector', albeit rather harshly). We suppose GBK may have benefited from people trading down from more expensive restaurants (without wanting to go as far as the fast-food chains), but it's still a remarkable result.