MT's Little Ray of Sunshine: A new cure for jet lag
Business travellers, wake up! A drug that resets natural sleep rhythms promises new hope.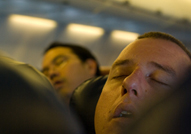 The drug, Tasimelteon, works by shifting the natural ebb and flow of melatonin, the body's sleep hormone, which is released by the brain in response to light levels and helps us stay asleep.
In the experiment, the results of which were published in the Lancet, American scientists kept test subjects awake for five hours longer than normal - replicating the time difference of, say, travelling from New York to London. Volunteers who took the drug slept for between 30 minutes and nearly two hours longer than those who received a placebo.
Volunteers on a medium dose of the drug slept for an average of 48 minutes longer. They also spent less time awake during the night: 140 minutes on average for the placebo group; 106 minutes for people who took a medium dose of Tasimelteon.