MT's Little Ray of Sunshine: Nice for Sir Tom
Some encouragement for frustrated house-sellers: Sir Tom Hunter just flogged his French villa for £50m...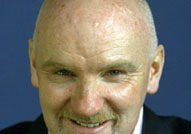 Sir Tom Hunter, the Scottish retail and property entrepreneur, has apparently sold the luxury villa he owns in Cap Ferrat near Nice. According to a report in the Telegraph, some cash-rich Russian oligarch (they still exist these days?) has taken it off his hands for the tidy sum of £50m. Some 'friends' told the paper he had received 'an offer he couldn't refuse' – though there was no use of a horse's head, as far as we know.
The sale comes after a pretty rotten year for Sir Tom. His vehicle West Coast Capital has invested heavily in property, leisure and retail – so he's suffered more than most from the recent chaos. He got into housebuilding at just the wrong time, buying McCarthy & Stone and then Crest Nicholson near the top of the market – now his holdings are reported to be largely worthless, while Crest is desperately trying to refinance its £800m debt pile. To make matters worse, the chastened HBOS has always been Sir Tom's biggest backer (for equity as well as debt) – but as it's incorporated into Lloyds TSB, that source of funds could dry up somewhat.
In fact, according to the Scottish Evening Times, Sir Tom's fortune has shrunk from £1bn to £750m as a result (meaning that he's no longer Scotland's richest man, apparently). His 'friends' insist that this isn't why he's selling his villa – and we can believe that, given that he's not exactly on the breadline even after the events of this year. But since it's now a lot harder for him to fulfil his most famous ambition, revealed in the grounds of this very villa – to give away £1bn of his own money to charitable causes during his lifetime – we're glad that those ever-generous Russians are topping up the pot.