MT's Little Ray of Sunshine: Stores bag green result
Some good news from the beleaguered High Street: supermarkets could halve plastic bag use by Easter.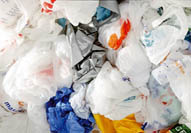 Representatives from Tesco, Waitrose, Asda and Sainsbury's today told the House of Commons Environment Committee that they were on target to achieve a 50% reduction in the number of plastic carrier bags handed out to customers by April 2009. So not all the numbers being reported by our retailers just now make grim reading - given that these little blighters often get used only once before being binned, and can take up to 1,000 years to decay in landfill, cutting their use has got to be a good thing.
Asda's representative told the committee, chaired by Michael Jack MP, that the store had a achieved a remarkable 30% drop in bag use simply by hiding them under the counter. It seems that if customers have to ask for a bag, quite a few of them simply won't bother. Checkout staff are also becoming eco-warriors, engaging with would-be bag users – in an entirely planet-friendly and non-combative way, of course – in order to persuade them not to use plastic bags to put their shopping in. Asda also pointed out that reducing bag use was not only good for the environment but also good for business, as of course it costs money to hand out 'free' bags.
Sainsbury's has also seen free bag usage drop by 28%, while sales of reusable 'bags for life' have shot up by 200% in the same period. Sainsbury's customers can now even sign up to receive a text message reminding them not to forget their reusable bags before their regular weekly shop. Not a bad idea, but it won't solve the problems of at least one MT staffer, who regularly reaches the checkout before remembering, too late, the armful of Bags for Life that lie empty and unloved in the boot of his car. We can't decide if driving to the supermarket in the first place is a worse eco-crime than forgetting the bags, but the two together are distinctly carbon-unfriendly. He has promised to try harder.