MT's Little Ray of Sunshine: Time off in loo of work
Ever wondered just how much productivity your company is losing to the scourge of 'comfort breaks'?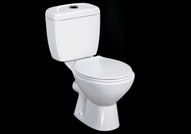 Believe it or not, this is World Toilet Day – an exercise intended to draw attention to poor sanitary conditions around the globe. As part of this, charity Tearfund has surveyed more than 2,000 people about their toilet habits – and the results make interesting reading for any manager who's looking to squeeze a bit more out of their team (so to speak) in this difficult climate. After all, if employees have enough time to be reading, texting and talking while they're on the toilet, perhaps they're not working hard enough?
The survey suggested that more than 14m people in the UK take newspapers, magazines and books to read on the loo, while 8m like to have a conversation (possibly by phone, but not necessarily) and one in five of us send text messages. Men are particularly prone to distraction, you may not be surprised to learn. And across both sexes, food is apparently our bog-standard preoccupation while we're perched on the porcelain throne, which we suppose is logical when you think about it (not that we particularly want to).
On the other hand, it wouldn't be easy for businesses to crack down on this sort of behaviour – they'd run the risk of looking at best churlish and at worst downright tyrannical. For instance, factories that have banned staff from taking comfort breaks while the production line rolls have been pilloried by the media and the unions. And do we really want to be encouraging staff to be spending even more time at their posts? It's quite possible that for some people, going to the bathroom is their only exercise of the day, so it could actually be making them more productive than they would be otherwise.