MT's Risky Business Week: Angus Robertson of powerPerfector
In the final video of MT's Risky Business Week, the entrepreneur recounts how he lost £17m after his plan to sell a luxury yacht he had built went badly wrong...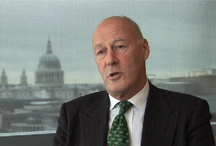 It's the last day of MT's Risky Business Week, and we sat down with Angus Robertson, the founder of energy-saving firm powerPerfector, to talk risk. It's a subject he should know about: back in the 90s, Robertson spent £20m building a luxury yacht (complete with rotating circular bed in the master-bedroom), then lost most of his money after a mistake by his crew resulted in the boat collapsing. Robertson says he 'eventually' managed to sell it for about £3m.
But he says the experience only left him stronger. 'You look into the abyss', he explains - but, by focusing on a day at a time, he was able to build his confidence back up. 'An entrepreneur can't be negative. I wake up every morning feeling optimistic,' he says.