MT's Risky Business Week: Caroline Plumb of Freshminds
The entrepreneur says business owners aren't the risk-loving bunch people imagine they are...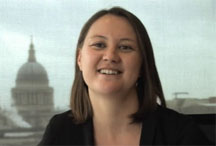 Our second interviewee for Risky Business Week is Freshminds founder Caroline Plumb, one of the youngest women ever to be included in our annual 35 women under 35 list.
A risk-taker herself, Plumb argues that entrepreneurs are more risk-averse than people give them credit for, but are instead more likely to think of a clever way to manage risk, rather than 'fall blindly' into a situation.
The key to managing risk, says Plumb, is staying nimble and finding opportunities in uncertainty, rather than shunning uncertainty itself. 'You can steer an oil tanker, but only when it's moving', she points out.