MT's Week in 60 Seconds (in verse)
A Christmas special: the best of this week's business news, in poetic form....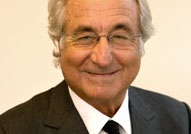 'Twas the week before Christmas and all through the City,
The news wasn't stirring; the results weren't too pretty.
The traders were nervously shifting on chairs,
In hopes that a Santa rally soon would be there.
Your house price will plummet, the Barclays boss said,
As rates were cut right down to nought by the Fed.
Deflation is looming, debt piles are too high,
They're all flogging assets to try and get by.
Woolies went south and it won't be the last mess;
Your money is better off under the mattress…
The MEPs said 48 is enough;
More hours in a week and you'll run out of puff.
Dikshit's so desperate to visit LA,
He'll give 300 mill to the mean DoJ.
In Britain we're looking to flog the Royal Mail,
But the Aussies say Qantas just isn't for sale
And Nixon thought maybe it's time for a break,
As young Adolf Hitler turned three without cake.
While some lost their shirts in the 50bn matter
Of a dodgy financier with a nice line in patter.
Away from the City, the West Coast went flash;
Another fuse blown despite £11bn in cash
The moon and the breast the life models did show,
As various car firms said sales were too low.
When what to our wondering eye did appear
But Mandy with a cheque book and a big new idea
Industrial bail-outs, without the free lunch;
We knew in a moment it must be the crunch.
But government hand-outs will always cause tensions,
Let's hope they have more luck than they did with the pensions...