MT's week in 60 seconds
The best of this week's business news: Brown battered, Microsoft mauled and a shortage of sick-notes...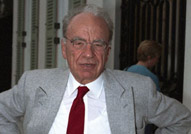 It's been another rotten week for Gordon Brown, starting with MT reader favourite Boris Johnson beating Ken Livingstone in the London mayoral election. Elsewhere there's been no let-up in the gloomy economic news – oil prices continue to soar (much to the airlines' chagrin) and food costs also appear to be rising, causing yet more worries about inflation. All of which persuaded the Bank of England to hold interest rates at 5% this week. And the big job losses announced by UBS were a reminder of the choppy waters the City must navigate in the coming months – will Gordon be able to find anyone to run the FSA, even for £434k a year?
Things were no rosier in the corporate world, with the collapse of Microsoft's $47bn bid for Yahoo last weekend. Amid the recriminations from both sides, market leader Google has been trying to keep the smirk off its face and cosying up to its new best friend Jerry Yang. But it's not just Microsoft that's struggling with its online business – even Rupert Murdoch hasn't quite been able to work out how best to monetise MySpace. We're guessing it's only a matter of time…
Meanwhile there were mixed fortunes for our home-grown corporate leaders. While WPP boss Sir Martin Sorrell enjoyed a £21m pay hike, and Carphone Warehouse boss Charles Dunstone celebrated a £1.1bn tie-up with US electronics behemoth Best Buy, BA boss Willie Walsh was getting another roasting about the much-maligned Terminal Five. In keeping with his new 'personal responsibility' credo, he blamed BAA – whose boss Colin Matthews didn't seem to know what was going on… And Royal Mail boss Adam Crozier suffered another setback after his profits fell by a third, while a report warned that the loss of its business post revenue could cripple the mail operator.