MT's week in 60 seconds
This week: recession, depression and Tibetan singing bowl sessions.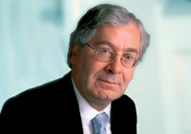 These were the seven days in which it became official. First the Ernst & Young Item Club suggested it, then Mervin King became the first economic policy heavy-hitter to admit it: we're entering a recession. 'The long march back to boredom and stability starts tonight,' said King. Always good to have something to look forward to.
King is, of course, stating what the majority of us already knew. But there's no harm in holding back on overblown speculation. We've had enough of that. Take the furore over Lehman Brothers' credit default swaps - as the deadline for settling them approached, figures being kicked around for the value of payouts reached $400bn. The debts were settled up this week: total value, $6bn.
Surely there was some good news this week? How about on the high street? Ahem. Retail sales fell by 0.4% in September, according to the Office for National Statistics. Home Retail Group, owner of Argos and Homebase, announced a first-half loss of £437m. Meanwhile DSG International revealed it was scaling back its spending at Currys by £30m, amid slowing demand. And Sir Philip Green announced that his Arcadia group recorded a 6% drop in profits for the year to September, adding that the recent turmoil in Iceland has meant putting his interest in Baugur's assets on hold.