MT's Week in 60 Seconds
This week: media frenzies, hedgies caught with their shorts down and accountants who protest too much.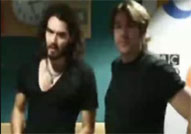 It's been a funny old week. Not for the first time recently, some feckless overpaid eejits have sparked a media frenzy and attracted public opprobrium for their tasteless and irresponsible behaviour – but this time the offenders worked for the BBC, not in the City.
Still, at least the ludicrously overblown Ross/ Brand fiasco has knocked the credit crunch off the front pages for a few days. Or perhaps it was just the relative absence of bad news: although the week began with a Bank of England warning that the crisis has already cost us nearly $3trn, the stock markets rebounded later in the week as the US slashed interest rates again, putting pressure on Europe to follow suit.
BP and Shell also had cause to be grateful for the comedians' public humiliation of the shy and retiring Voluptua from the Satanic Sluts. The Daily Mail brigade was so busy pursuing its Ross/ Brand witch-hunt that it barely even remembered to rant about fat cat profiteering and windfall taxes when the two oil giants both posted gigantic third quarter profits. Unilever also seems to be making hay while the sun hides behind a big black cloud – it shrugged off downturn worries by posting higher-than expected sales. Fortunately, Pot Noodle is slightly less politically sensitive than oil.