MT's Week in 60 seconds
In the business news this week: job cuts, savvy supermarkets, and mind-bending drugs.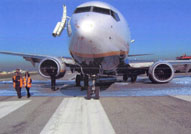 This week's been all about job cuts: you couldn't move in the City for ashen-faced corporate behemoths announcing plans to restructure, or right-size, or any other euphemism they could think of for large-scale redundancies. BT came out with the most eye-popping figure – 10,000 of its staff are set to lose their jobs. But there were also savage cuts at Taylor Wimpey, Virgin Media, Yell and RBS. Vodafone looks set to trim its workforce too, after announcing a £1bn cost-cutting programme (although it refused to admit as much this week). Depressing news, especially since official figures this week showed a 140,000 jump in unemployment for the three months to September.
Elsewhere there was also bad news for HSBC, which announced another $4bn of write-downs on its US operations, and Ryanair, whose plane was forced into an emergency landing in Rome after a flock of kamikaze birds destroyed both of its engines. And the doom and gloom continued for Starbucks, which saw its profits tumble by 97% last quarter. Will Howard Schultz's turnaround plan prove to be too little too latte?
Sainsbury's did provide a rare beacon of hope: its latest results showed a healthy growth in sales, suggesting that its pricing strategy is working (although Asda's latest results were even better today). Ocado was another happy camper: it's been given free rein to take on Waitrose, after John Lewis decided to step back from their relationship. Indeed, after a report suggested supermarkets could be the big winners this Christmas, the whole sector had reason to break open the bubbly (well, the own-brand fizzy cider at least).