MT's Week in 60 seconds
In the business news this week: hopeless hoofers, falling footfall and time off in loo.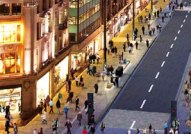 No question about the big story this week - forget trifling matters like the global economic meltdown, the plunging oil price, terrorist threats and stand-offs with pirates - it's all about whether John Sergeant should have quit Strictly Come Dancing. However, who are we to criticise ageing hacks for utter incompetence (people in glass houses, and all that)? So we'll stick to the more familiar territory of retail sales, which have been causing yet more jitters this week.
The good news, according to the ONS, is that things aren't as bad as everyone's making them out to be. The bad news, according to absolutely everyone else, is that things are very much that bad - and possibly worse. So bad, in fact, that some of them appear to be starting their Boxing Day sales a month before we've even had Christmas: M&S, Debenhams and BHS have already taken the plunge, while John Lewis might have to after today's results. Still, it could be worse: they could be Woolies, who admitted to talks with restructuring specialists this week after its shares hit a measly 3p.
On a more cheery note, this has been Enterprise Week in the UK (and, as of this year, in over 70 other countries too), and we've been besieged by politicians telling us that entrepreneurs can save the world. There was positive news about women-owned businesses and the growth of social enterprise - although it was all slightly overshadowed by the ongoing row about how the Government is going to help small businesses get better access to bank finance.