MT's Week in 60 Seconds
The best of this week's business news: bullish budgets, rubbish retailers and murderous managers.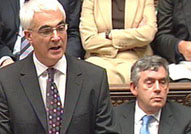 The big story this week was Monday's Pre-Budget Report – although so many of the highlights had been leaked over the weekend that there weren't too many surprises. With the economy officially shrinking by 0.5% last quarter, it was clearly time for some bold measures. However, the huge levels of borrowing required to fund the Government's spending spree – sorry, fiscal stimulus – didn't go down well with everyone (and prompted some thoroughly enjoyable shouting matches in the House of Commons).
The headline move was of course a temporary 2.5% cut in VAT, as of December, which has left businesses across the UK scrambling to get their house in order by Monday (in fact, some argue the disruption will actually cost them money). Then again, for some retailers this is the least of their worries. There were dismal results from Currys owner DSG and B&Q parent Kingfisher, while fallen high street giant Woolworths finally succumbed to the inevitable and went into administration (as did MFI). With a fire-sale of its stock expected in the next few weeks, it will only increase the pressure on others to discount more heavily in the run-up to Christmas – which will probably render the VAT cut fairly irrelevant…
But not everyone's losing out in the slowdown: fashion sports chain JD Sports, which continues to flourish, seems to have spotted an opportunity to pounce on struggling rival JJB Sports. Good news too for CFOs – a new study suggested they'll become increasingly influential voices in the boardrooms of UK plc, and will also be good candidates for the top job. And green campaigners will have been delighted to read that supermarkets are on track to halve their plastic bag usage in the next few months – although admittedly that's partly because we can't afford to buy as much stuff...