MT's Week in 60 Seconds
The best of this week's business news: rate cuts, bank-bashing and Britain's most admired...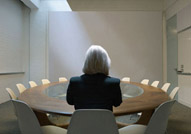 After another grim week of economic news – including a precipitous fall in house prices and a big slump in the service sector – it was no surprise to see the Bank of England slash interest rates by another 1% on Thursday, taking rates down to their lowest level since the days of rationing and Ealing comedies. Now the pressure is on banks to start being nicer to their consumer and business borrowers – RBS started the week by promising to go easy on customers struggling to pay their mortgages, while most of the banks have now promised to reduce borrowing rates for SMEs.
Meanwhile corporates continue to feel the squeeze – carmakers Honda and Aston-Martin were both in the news for all the wrong reasons this week, adding more job losses to those trickling out of the City with every passing day. And the future looks particularly grim for Woolies – Dragon Theo Paphitis was linked with a rescue bid at the start of the week, but he's since decided against it (or was never serious about it in the first place, possibly).
But there have been some big winners emerging from the recent turmoil. Yesterday supermarket chain Morrisons reported bumper sales growth and increased market share – a notable achievement, particularly in the same week that Tesco reported its slowest sales growth in years (although these results weren't exactly disastrous either). Ryanair obviously has cash in the bank, judging by its latest bid for Aer Lingus (which admittedly got short shrift). And one of the biggest winners of the last year has been Diageo – this week the drinks giant was awarded the illustrious title of Britain's Most Admired Company 2008, following MT's annual peer review survey.