MT's Week in 60 Seconds
The best of this week's business news: Obama boosts, battered banks and booming Brits...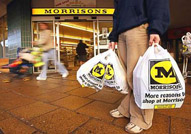 So how will history remember the third full week of January 2009? Will it be for the inauguration of Barack Obama as the 44th President of the United States, a momentous event that made headlines all round the world? Admittedly the last guy didn't actually leave him with an easy task (a devastated economy, a divided electorate and a dismal international reputation), but such has been the excitement generated by his election that he seems to have given many people genuine cause for optimism. (By contrast, the biggest political excitement on this side of the pond came from the front-bench return of one of the Tory Party's oldest MPs, Hush Puppy-shod Ken Clarke, the new Shadow Business Secretary).
Or will it be for the moment when Britain's recession was finally confirmed officially, after a week in which the grim economic news kept on coming? RBS kicked things off on Monday by 'fessing up to the largest ever UK corporate loss of £28bn, forcing the Government into a second bailout of our ailing banks. Unfortunately, it didn't quite have the desired effect – they've all seen their share prices hammered ever since, while the pound slumped to an alarming 25-year low against the dollar. Falling commodity prices may mean lower gas bills, but it's also fuelling deflation worries – while unemployment inched up towards 2m, as Burberry, Vion and Microsoft all added to the jobless total.
Also possible (though unlikely, admittedly) is that it will be remembered as the week when three contrasting British companies made a big splash. Supermarket chain Morrisons came out on top of the Christmas price war by recording an 8% sales hike. Dr Mike Lynch, recent winner of MT's Britain's Top 100 Entrepreneurs, reported that his software company Autonomy is continuing to shoot the lights out. And online fashion retailer Asos recorded another huge jump in revenues. If only our car industry was so healthy – although our editor's theory on its demise provoked some strong views...