Can Mulally save Ford?
Ford is in a tailspin. It recorded a $5.8 billion third-quarter loss and predicts another $1 billion fall in the fourth quarter. It does not expect to return to profitability until 2009.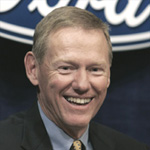 Alan Mulally, the company's new CEO, has a massive task ahead of him to restructure the company and enable it to produce a steady stream of competitive cars. As an outsider (he comes from the airline manufacturing business) Mulally has a big learning curve and is likely to make mistakes, perhaps very costly ones, before he learns what he needs to know about the intricacies of the car business.
There are two Mulallys: one is a mild-mannered manager and the other is a tough-talking energiser. The company needs the latter if it is going to stand a chance of recovery. So far, the only concrete solution he has devised is to set-up a new, weekly meeting for his top executives to go over every detail of the company's operations and to make sure everyone is fully accountable.
For 30 years Ford has faced the same problems: excess capacity, inefficient operations, a powerful union and strong foreign competition. It can no longer rely on individual car models to bail it out as it did in the past with the Taurus and the Explorer. It urgently needs to find a way to improve co-operation between different global divisions.
Ford will also need to be more consistent in its product planning to compete with companies such as Toyota and Honda, which manage to build-up a range of repeat buyers by constantly developing popular models rather than producing a stream of new ones.
Mulally's toughest challenge is making Ford's product line-up competitive again and it is the one he is least qualified to do. He says that the company's cost structure is driven by complexity (models, production system, plants) and says that Ford needs to restructure so that it can operate profitably at lower volume. It also needs to be able to change the model mix between trucks and cars, he says. Whether he can pull the company out of its current morass looks like a 'long shot'.
Source:
Ford's student driver takes the wheel
Fortune, 13 November 2006
By Alex Taylor III
Review by Morice Mendoza