Mulberry in a jam as sales plummet 17%
The one-time darling of middle England reveals yet another hole in its handbag sales.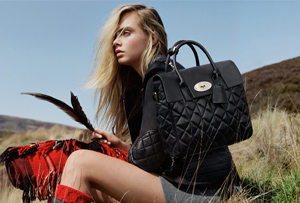 This just isn't a good day to be in handbags. As Burberry reports slowing growth, fellow fashion berry Mulberry issued a profit warning today, and a rather grave one at that. Revenues for the six months to September 30th were down 17% on the same period last year, to £64.7m. Profits for the full year, meanwhile, were expected to be 'significantly below current expectations'.
Shares had dropped more than 10% to 670p in lunchtime trading on the news, having already lost a third of their value over the last twelve months. Mulberry downplayed the poor showing (surprise surprise) by saying the 'first half was expected to be particularly difficult', referring to the aftermath of Bruno Guillon's disastrous tenure as boss, which came to an end in March.
Guillon took the company away from its traditional, mid-priced British base to pursue a high-end, international market, contributing to a severe decline in its fortunes. Profits were £26m when Guillon took over in 2012, but this year will reach no more than £4m, according to estimates from Barclays.