Mumsnet's the Word
Politicians have been falling over themselves to get on Mumsnet, hoping to win over its million-plus users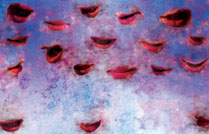 When the 2010 general election is scrutinised by academics a few decades from now, one phrase is sure to bob to the surface. 'The Mumsnet election' will either be seen as an important early milestone in the evolution of the great national - and maybe global - institution that Mumsnet has become. Or it could prove to be no more than a footnote relating to an enterprise that flourished briefly at the dawn of the 21st century before it was overtaken by a more cutting-edge social networking phenomenon and drifted to the fringes of cyberspace, only to disappear for ever.
Which of these scenarios will come to pass is hard to call right now. But the fact that an enterprise set up by two mothers at the height of the dot.com boom on little more than a wing and a prayer has survived at all, let alone managed to persuade leading politicians of all hues that it is indispensable, ranks as quite an achievement.
Gordon Brown was the first of the leaders to visit Mumsnet's offices for a webchat last October; he was followed a month later by David Cameron and, in January, by Nick Clegg. Other politicians who have been falling over themselves to hitch their keyboard to the Mumsnet server include Ed Miliband, Harriet Harman, Ed Balls and David 'two brains' Willetts.