'Murdering scumbags': How did outsourcing get into this mess?
Outsourcing firms seem to stagger from one scandal to the next, with even their Government paymasters putting the boot in at times. Can they turn their image around?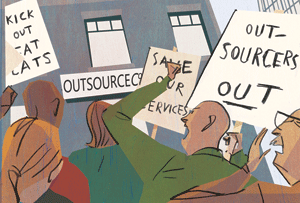 'Murdering scumbags.'

That was just one of the Facebook messages recently aimed at Atos, the French IT consultancy responsible for implementing the Government's work capability assessments, after its controversial 'Fit to work' tests led to many long-term recipients of disability benefit having their payments stopped.

Another poster threatened to 'hang you bastards'. The company said that last year there were on average 163 instances per month of staff being abused or assaulted, culminating in a week of organised protests in February, when Atos offices up and down the country were besieged by angry people, many of them in wheelchairs. Placards on display included one where the 's' in Atos had been replaced by a Nazi-style SS insignia.

The level of vitriol, and associated reputational damage, is such that Atos has now provoked even more fury – this time at the Department for Work and Pensions itself – by seeking an early exit from the huge £500m contract, not due to expire until April 2015. Outsourcing – long a hot political issue in the UK – seems to have gone nuclear.

The Atos saga is far from exceptional. It's simply the latest in a string of outsourcing cock-ups, most famously the fiasco of G4S's failure to provide security staff at the Olympics, which led to the army being called in. More recently, the same company was forced to grovel after it was found to have overcharged for an electronic tagging deal, and it was accused of covering up the scale of a riot at a prison it runs.

Fellow outsourcing behemoth Serco was stripped of a £37m Ministry of Justice contract to provide probation services, and was investigated by the Serious Fraud Office after it turned out it had fiddled figures for transferring prisoners. As punishment for their misdemeanours, both G4S and Serco were banned for a while from pitching for government work, although that ban has now ended. In the wake of all the scandal, the CEOs of both firms resigned last year.

Serco now has a new boss – Rupert Soames, Winston Churchill's grandson – and will be hoping for a new start to match. But G4S's woes continue. A whistleblower has alleged accounting skulduggery and insider trading at the firm, and the government has appointed a 'minder', former Balfour Beatty chief executive Ian Tyler, to oversee its relationship with G4S, as the outsourcer tries to convince government it is fit to take on more work.

The odd thing about these foul-ups is that it's not only union officials and those who feel their jobs are threatened who delight in taking the moral high ground and bashing them, but also Tory ministers. Take this classic of the genre, from justice minister Chris Grayling: 'There has been a culture within parts of Serco that has been totally unacceptable, and actions which need to be investigated by the police.'

Pretty strong stuff. And the outsourcers are peeved. More than that, they feel betrayed about the way that government talks about them, on the one hand coming to them cap in hand to help make their ever faster, ever deeper cuts, on the other slagging them off when things go wrong.
'I don't think it helps their cause to be so antagonistic,' muses a senior person at one outsourcing company. Another described the government as being 'hostile' towards the industry.

One of the outsourcers sees the government's attitude towards them as part of 'a climate of being anti-big business'.
He added: 'The rhetoric is against big business, against the big outsourcers, banks and utilities. I find it curious that there is so much of this rhetoric, rather than a balanced commentary.'

Another adds, wistfully, that 'maybe we all expected an easy ride from a Conservative government'. They feel that the Government is asking them to do complex, difficult things in a rush, and that ministers' glee in slapping them down when they go wrong is cheap and nasty.

In one sense, it's hard to feel too sorry for the outsourcers, which make handsome revenues from the state. UK government contracts with them account for £700m of France-based Atos's global revenues of £7.2bn, £1.6bn of Capita's £3.4bn, £1.3bn of G4S's £8bn and £3bn of Serco's £4.9bn. Local government spent £506bn with Capita in 2012/13, while Serco's contracts with the NHS were worth £201m, and its central government deals £1.2bn.

The high-profile problems rightly raise questions over whether they deserve to be paid so handsomely. But, on the other hand, they have a good point. Most of what they do goes smoothly. And if, as this government continually tells us, we have to outsource public services to save money, then it follows that we all need the outsourcers, so ministers ought to be best buddies with them.

And it's not only the big outsourcers that feel alienated. Electronic tag maker Buddi recently dropped out of a contract with the Ministry of Justice, after a procurement process that lasted two years, involved a top team producing hundreds of thousands of pages of documentation, often at very short notice, and cost the firm over £2m.

'We were still at the stage of defining the final specs for this tag, which is on the market already and is working,' says the firm's founder and CEO, Sara Murray. 'To me, it seems a bit of a fiasco.' She contrasts the MoJ deal with a process Buddi went through with a large US electronics firm last year, for two and half times as many units, which took less than eight weeks.

She adds that the US federal government has an effective and quick piloting scheme, and that the UK's current procurement system is just not up to the job. 'I'd say that if we procured smartphones like that, a two-year process to determine what was the best and then a three-year contract, people would say that was ridiculous,' she says. 'They are trying to procure innovation but have no appetite for risk.'

So what on earth is going on? To get to the bottom of that, it's worth taking a snapshot of the UK's outsourcing landscape. To start with, outsourcing is not privatisation, although the two are often conflated by some newspapers (whether deliberately or not).

Privatisation is when government absents itself from the supply of a service, leaving it to a private company to deal directly with customers. Outsourcing is where the public sector is still responsible for the service, but hires a private company to provide it. And it makes sense. We don't expect local councils to design and build their own street-sweeping machines. They buy them from Volvo. So why shouldn't they buy services from experts too?

Opponents of outsourcing perhaps don't realise how embedded outsourcing is in the British state. While big contractors Capita, Atos, G4S and Serco are the best known, the National Audit Office says that over 200,000 companies and charities provide services to the state. These include everything from managing buildings for government and answering phones for police forces, to maintaining the Royal Air Force early-warning base at Fylingdales and running the Atomic Weapons Establishment at Aldermaston.

According to the NAO, total government spending on outsourcing in 2012/13 was £187bn, of which £84bn was spent by local government, £50bn by the NHS, £13bn by devolved and independent bodies, and £40bn by central government.

About a quarter of all government expenditure is spent on outsourced services. So outsourcing is not going away, instead it is evolving into what Richard Harries, deputy director of the think-tank Reform, calls 'outsourcing 2.0'.