Murdoch Jr turns News Corp green
Not content with running Britain's third Most Admired Company, James Murdoch now wants to turn his hand to global warming. He's leaving his job as CEO of BSkyB to take charge of his father's media empire in Europe and Asia, and apparently improving its green credentials is going to be right at the top of his agenda.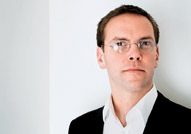 BSkyB said today that Murdoch jr, its boss of the last four years, was stepping down to take up a new role as chairman and chief executive of News Corp Europe and Asia. This means he'll be in charge of News International, publisher of The Times and The Sun, as well as Sky Italia and the Star television business.
According to MT's sources, one of his main priorities will be to improve the company's carbon footprint in China and India. Growing up in the Murdoch family, he'll be used to big challenges – but taking on the new economic superpowers over global warming is a big ask even for a man of his undoubted talents.
When Murdoch jr took the top job at Sky four years ago, the move was inevitably greeted with suspicion that he only got the gig because of Daddy. But since then he seems to have managed to prove the doubters wrong, moving into broadband and telecoms, beefing up its marketing efforts and even giving £1.8bn back to happy shareholders.