Murdoch in the news
He might never give interviews, but Rupert Murdoch is apparently the most high-profile public company figure in the UK, according to a new survey. Now all he needs to do is buy a football club and we'll never hear the end of him.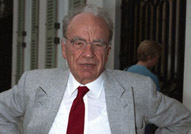 News aggregator Sweet & Maxwell found that Murdoch was cited in over 3000 articles in the year to August. That's 40% more than last year, and almost twice as much as anyone else on the list
This is partly due to his high-profile and controversial bid to take control of the Wall Street Journal, which prompted much wailing and gnashing of teeth, but it's also a reflection of the media's obsession with writing about the media. This sector received more mentions than any other – almost ten times as many as mining, which accounts for nearly 10% of the FTSE 100.
Lord Browne was the second most-cited figure – but unlike M&S's Stuart Rose and Sainsbury's Justin King, who also made it into the top ten, the reasons for this are probably not entirely work-related. The whole 'dog-walking' scandal may have put paid to his career at BP, but it proved to be classic tabloid fodder.