Murdoch pops out to the newsagent
Rupert Murdoch has been mixing with his distributors. It's a good habit to be in.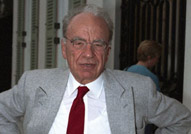 It emerged this week that the mighty Rupert Murdoch has been out treading the pavements, leaving his News Corp command post in New York earlier this year to walk into a newsagent in West London and question the owner about her distribution concerns.
Back in July, when News Corp's British operation took over the delivery of its papers from its former distributors, the self-described 'billionaire tyrant' wandered in to Jads newsagents in Turnham Green to ask owner Daxa Solanki about sales, deliveries and any major problems she was having. It's unknown whether he took a punt on a scratch card while he was there.