Mutuality - what's the big idea?
Mutual businesses have had mixed success historically.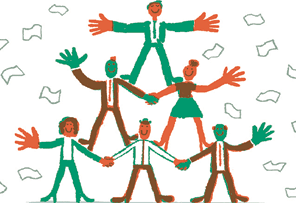 Firms owned by their members are hardly storming the heights of capitalism, but they never could, could they? Some are doing quite nicely, but others are struggling to find a role now that the concept of community, on which they rest, no longer has the meaning it used to.
The Co-op has lost its way, but Arla, the Danish dairy giant that brings farmers to a secure market, and other not-quite-mutuals, such as employee-owned John Lewis, are thriving.
The difference is one of adaptation. Co-ownership of an enterprise that you work in or that you supply, as with Arla and John Lewis, is viable because it builds a community and neutralises destabilising external forces. But where members are also customers, as with the Co-op (see feature, p48), there is no compelling logic, just tradition and the faded dream of a world of community.