'My co-founder and I were constantly at loggerheads' - Lisa Scott
HOW I BEAT THE ODDS: The founder of Gourmet Gadgetry overcame conflicts, cash-flow problems and stock delays to find a recipe for success.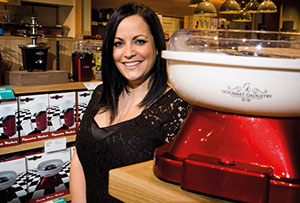 I've been a foodie for as long as I can remember. When I was little, I'd spend Saturday afternoons baking cakes and concocting recipes. My father is a chef and runs his own catering business; I guess that's where I get my entrepreneurial streak from.
I ran my own lifestyle and beauty PR agency for six years. One of my clients was Giles & Posner, best known for its chocolate fountains and quirky food appliances. Part of me itched to design the products myself. I kept thinking, I could do that - and I could do it better. When the company went into administration in 2011, the FD and I decided to start our own fun-food gadgets brand, Gourmet Gadgetry. The fact that I was three months pregnant didn't put me off.
We each invested £20,000 and spent the first 12 months visiting factories in China, researching and testing products, setting up a warehouse in Kent and visiting retailers. I'd be up in the middle of the night writing instruction manuals while breastfeeding my newborn, Leo. By chance, I bumped into the electrical buyer for Selfridges at the International Home and Housewares Show in Chicago, showed him our products and clinched our first big deal; our range of cupcake, cake-pop and waffle makers hit the shelves in December 2012.