My-wardrobe founder Sarah Curran on disrupting the fashion industry
At MT's 35 Women Under 35 party Sarah Curran, founder of online fashion boutique my-wardrobe.com, explains lessons she's learned in business.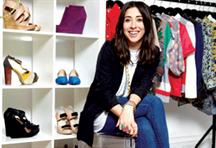 ---
Sarah Curran launched my-wardrobe.com, a fashion website providing 'everyday luxury', in 2006. The aim was to be more upmarket than Asos but more affordable than Net-a-Porter.

Originally an offshoot of Powder, a fashion boutique she owned in Crouch End, mywardrobe.com quickly outgrew the boutique and Curran invested everything – including money raised through the sale of her house – into the business.

Speaking at last night's launch of MT's 35 Women Under 35 2013, held at the HQ of one of Britain's leading ad agencies, Karmarama, Sarah Curran explains lessons she's learned along the way.
---
Surround yourself with the best of the best

One of the many things I've learned from building a brand from scratch is that it's so important to surround yourself with the best people possible. Sometimes there's a natural tendency not to employ someone who's better than you because ego can get in the way. I went through that numerous times. But if you employ people better than yourself, then the business as a whole will be more successful. It's our duty to help women succeed because that's the only way we'll break the mould and any stereotypes directed at women.