Myners to front Flowers Rock bid
US private equity firm JC Flowers is about as low-profile as Richard Branson is over-exposed – but it's managed to recruit some heavy-hitters in the battle for crippled lender Northern Rock.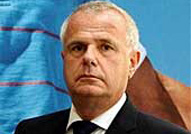 Chief among them is UK boardroom veteran Paul Myners, who would be installed as chairman. Halfords chairman Richard Pym has been lined up as chief executive for an initial period (before becoming executive deputy chairman) and former ABN Amro CFO Hugh Scott-Barrett will take up the same job at the Rock. There are also some heavyweight advisers, including former Rock CFO Bob Bennett, ex-Abbey CEO Peter Birch and Sir Martin Jacomb, ex-chairman of the Pru.
Myners, the former chair of M&S, is fast becoming more popular in UK boardrooms than a raft of plasma screens. Already chairman of the Guardian Media Group and non-executive chairman of Land Securities, he joins the board of hedge fund GLG next week and has been busy churning out advice on everything from corporate governance to private equity taxation. Still, he's had to step down from his position at the Bank of England to hook up with JC Flowers, so that should free up a few hours.
Still, JC Flowers needs the big names. Virgin is bound to pitch itself as the UK-based consumer-friendly brand experts versus the shadowy asset-stripping private equity bad guys. Boss Christopher Flowers, a bespectacled ex-Goldman Sachs banker, might need a bit more media clout if he wants to go toe-to-toe with Branson.