The myth of multi-tasking
Multi-tasking might look impressive, but it's often just a muddle-headed displacement activity.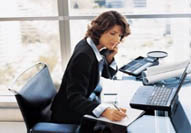 Take a minute to observe your colleagues. Are they tweeting while the boss talks to them from across the room? Holding a meeting while checking their BlackBerry? Speaking on the phone as they send an e-mail? With redundancies, squeezed budgets and job insecurity, doing several things at the same time would seem to make sense. At the very least, it pays to look busy.
And then there's the kudos - multi-tasking could do wonders for your promotion prospects. Who isn't in awe of the person who can speed-read a report, listen in on a meeting and keep an eye on their e-mails at the same time?
Multi-tasking works, right? Wrong. Very wrong. The great multi-taskers of our time turn out to be the ones who remember nothing and get the least done. This is the shocking conclusion of Stanford University researchers Eyal Ophir, Clifford Nass and Anthony Wagner, who published their findings in a recent Proceedings of the National Academy of Sciences.