National Express heading for buffers after derailed bid?
Shares in struggling train and bus operator National Express plunge 30% as £765m bid falls through.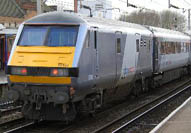 The bid – led by private equity group CVC and the Spanish Cosman family, which already owns 18.5% of the firm – was due to be formalised today, but was unexpectedly withdrawn at the eleventh hour.
The failure of the bid marks the end of a summer that National Express's directors, employees and shareholders would probably prefer to forget. It's expensive, pre-recessionary deal to run the East Coast Main Line route came a cropper when the downturn hit revenues, costing it £20m in the first six months of 2009 alone. It's now been stripped of the franchise (or handed it back, depending on who you believe) five years early.