National identity cards a really bad IDea
The Home Secretary has had to deny reports that police will be able to insist on seeing ID cards...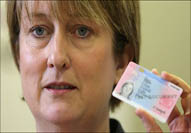 The national ID card fiasco is heating up nicely again, after Jacqui Smith was forced to deny to Parliament that police will have the right to force us to show our cards at any time.
The Home Secretary was forced onto the offensive after lawyers at Liberty spotted clauses in a draft immigration bill that give state officials the power to make anyone who has ever entered the country prove their identity. In theory at least, that could apply to anyone who has ever been out of the country on business or for a holiday, hence the government's hasty denial. 'The intention is only to enable ID checks at the border' she told the House. So that's OK then. They won't change their minds once the bill has been passed, will they?
Since Nov 25, the first national ID cards have started to be issued to UK residents who hail from outside the European Economic Area – accompanied, some of you may have noticed, by a natty advertising campaign featuring the utterly forgettable strap line: 'Their identity, your reassurance'. And our money they're spending on this stuff, remember.