National Sickie Day to cost businesses £34m
Everyone called in sick yesterday. Or maybe they had too much Superbowl fun.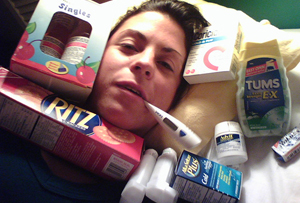 It's all getting a bit too much for a lot of people. The first Monday in February arrived and Britain's workers crawled back under their duvets en masse – a survey has found more called in sick yesterday than on any other day of the year.

As storms and floods continue to rage, spring is definitely looking far away right now. Somehow the MT team managed to forgo their warm beds to man the business news barricades…

British businesses could lose around £34m due to lower productivity and lost wages, according to the Employment Law Advisory Services (Elas). Which is an astonishingly low figure, considering ITV show Daybreak reckons almost a third of workers pulled a sickie yesterday (it surveyed 1,000, people - who, by the looks of things, don't like their jobs very much). Nothing like a good phone poll eh?

'National Sickie Day' may seem like a bit of a joke with... wild excuses, but there are some serious underlying reasons hiding beneath the surface,' Cary Cooper, professor of organisational psychology and health at Lancaster University, said.
'This time of year is tough, especially for those struggling to meet financial commitments or just fed-up after the holiday season.
Cooper also thought bosses should be a bit sympathetic. 'Smart bosses know when to show a little understanding – when to say, "ok, take a day off, just don't abuse my trust".' Hmmm.

However, MT suspects something more pernicious was at work than sad, sniffly employees. That all-American advertising orgy punctuated by over-amped popstars and men in padded shorts throwing a ball – Superbowl.

Channel 4 even got in on the Yankee-emulating act by creating a 'super sickie service', where you can get a fake doctor's note for 'bacon disease' or 'bibituria hangovurus'. Megalolz if you stayed up until 4am and couldn't keep your eyes open.