Nationwide makes hay
The credit crunch and the ensuing Northern Rock debacle have generally been seen as a disastrous episode for most participants in the financial markets. But judging by today's results from Nationwide, every cloud has a silver lining...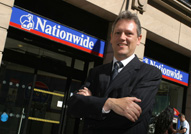 Nationwide, the UK's second largest savings provider, said it took £1.8bn of deposits in September as customers rushed to take their money out of Northern Rock and co. and put it somewhere with no apparent chance of going bust. As a result, total deposits for the last six months were £4.1bn, almost double last year's figure.
'Nationwide is regarded by many as offering both a safe haven and good value and we have seen a significant inflow of savings,' chief executive Graham Beale said smugly this morning. He went on: The high level of savings inflows enabled us to fund all residential mortgage lending in the half year from retail receipts'. Unlike the Rock and Paragon, he could have added.
Nationwide's results are pretty spectacular, particularly given the disruption caused by its recent merger with Portman Building Society. As well as increasing deposits by 96%, it also boosted profits by 29% and returned £300m back to its customers through reduced rates and fees. So Beale has every right to be pleased with himself – although having his company's name plastered all over the England football team didn't turn out to be a very smart move…