Nationwide profits down 50%
Nationwide's half-year profits have slipped by 50%. Can SME loans reverse that?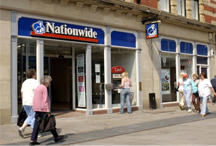 Britain's biggest building society saw pre-tax profits decline to £124m in the six months to the end of September, from £238m a year earlier. It's an unhealthy subsidence, largely down to a £193m impairment charge on commercial property loans, and £45m it has set aside for compensating clients allegedly mis-sold payment-protection insurance (PPI).
PPI is certainly looking less of a good idea these days: a form of loan cover designed to cover repayments if punters fell ill or lost their job, the policies were often sold to people who wouldn't have been eligible to claim on them. Duh. Nationwide has now set aside a total of £173m to compensate clients over the debacle – still well below the whopping £5bn earmarked by Lloyds Banking Group. It's estimated that the country's financial services industry as a whole could face a bill of about £15bn to cover compensation payouts. Maybe they should have taken out insurance against that.
The PPI costs form an unwelcome mess on an otherwise healthy-looking lawn at Nationwide: this period was also its highest six-month lending period for four years. Gross residential mortgage lending was up 15% to £10.2bn during the first half of the year. Given how hard it is to get on the property ladder these days, the strong figures may well be down to desperate 30-somethings taking out mortgages on their old bedrooms at their parents' houses.